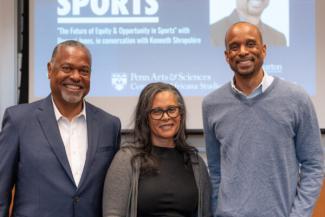 Thanks to a partnership between the University of Pennsylvania's Center for Africana Studies, the Wharton Coalition for Equity and Opportunity (Wharton CEO), and the Wharton Sports Analytics Business Initiative (WSABI), the 2023 Race and Sports event returned on Thursday, April 27 during the Penn Relays weekend. This year's event was especially meaningful as it marked the first successful return of the event since 2019. Attendees welcomed "Game Theory" host and long-time sports media analyst Bomani Jones for a conversation on race and sports.
Students and members of the Penn community gathered on the second floor of Hunstman Hall for a wide-ranging and free-flowing conversation, moderated by Kenneth Shropshire, the David W. Hauck professor emeritus at the Wharton School, emeritus professor of Africana Studies, and senior advisor to the dean for Wharton CEO. Jones, whose sports media presence spans decades and several media outlets, spoke at length on gender dynamics in sports, the difficult path ahead for Black sports owners, the value of agent representation, and more over the course of 90 minutes.
Jones connected the prevalence of sports across culture to our relationship with gender.
"Sports have historically been a celebration of traditional ideas of masculinity," he said. "We can argue about the health of that, what's good and what's bad about that. But anything that's going to put forth the idea of the goodness of man, that is what people look for in sports. I think what people expect from it is that sports would be reflective of something larger and something better, because it then gives us the impression that we ourselves are better."