Africa Scholar for a Day: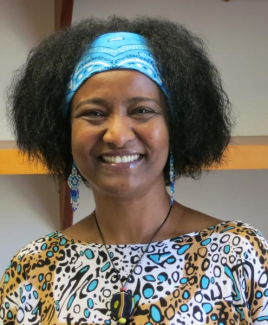 Professor Fadlalla's Biography: 
Amal Hassan Fadlalla is Associate Professor of Anthropology, Women's Studies, and Afroamerican and African studies at the University of Michigan, Ann Arbor. Her research interests and teaching focus on global issues and perspectives related to gender, health, reproduction, diaspora, transnationalism, population, development, and human rights and humanitarianism.  She holds a B.Sc.  and Masters degree in Anthropology from the University of Khartoum, Sudan, and a PhD in Anthropology from Northwestern University, United States. 
She is the author of Branding Humanity: Competing Narratives of Rights, Violence and Global Citizenship (Stanford: Stanford University Press, 2018) and Embodying Honor: Fertility, Foreignness, and Regeneration in Eastern Sudan (Madison: The University of Wisconsin Press, 2007). She is also the co-editor of the book, Gendered Insecurities, Health and Development in Africa (Routledge, 2012), and the Humanity Journal Issue:  Human Rights and Humanitarianism in Africa  (Volume 7, No. 1, Spring 2016).  Some of her other publications appear in:  Signs: Journal of Women in Culture and Society, Urban Anthropology, Identities: Global Studies in Culture and Power, and in the School for Advanced Research (SAR) advance seminar series edited volume: New Landscapes of Inequality:  Neoliberalism and the Erosion of Democracy in America, 2008.
Professor Amal Hassan Fadlalla is the recipient of many prestigious awards from the Rockefeller Foundation, the Population Council, Harvard Population and Development Center, the Woodrow Wilson Center for International Scholars, the Human Rights and Humanity awards from the University of Michigan, and the Mercator fellowship from the University of Halle, Germany. As a public scholar she has also written short articles for various media blogs and has given interviews to various popular media outlets, including BBC and NPR.
Schedule of Events:
10:00-10:30 Registration
10:30-11:50 Graduate Student Research Colloquium
12:00-2:00 Welcome Remarks & Keynote
2:00-3:00  The Health of Africa
3:00-3:20 Tea & Coffee Break
3:20-4:20 Diaspora & Migration: Human Rights and Global Citizenship
4:20-5:20 Closing Remarks, Reception, & Performance
5:30-7 Invited Dinner (Students only)
Co-sponsored by Penn's Middle East Center and Departments of Anthropology, History, and History and Sociology of Science.