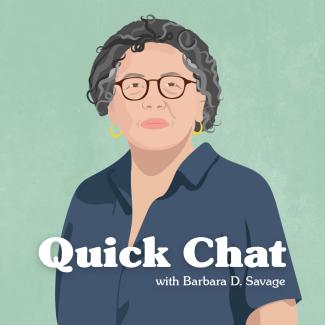 Since the spring, most of the world has been staying home. While video calls have become the norm, off the cuff interactions that take place in passing have all but disappeared. So we decided to ask some of the questions you would ask if you were to run into someone at the bookstore, on the train or even while having a cup of coffee.
We caught up with Professor Barbara D. Savage, the Geraldine R. Segal Professor of American Social Thought in the Department of Africana Studies at Penn, who, before March, had been traveling around the globe to conduct research for her latest project.
Read on to see what Dr. Savage has been up to.
Oxford recently introduced a new undergraduate prize in your honor, after you taught there for a year. What did you gain from this experience? 
The most surprising thing I learned was how interested students were in African American history in particular and black history worldwide.  Certainly, the history of the civil rights movement captures student's imaginations, as it does students here, and then reaches back to slavery and abolition, war and reconstruction, and the long 20th century struggle to end segregation and racial inequality.  Those historical currents easily connect to the contemporary moment and global movements to end injustice.  It also generates more interest in Black British history and the history of British imperialism in Africa, India, and the Caribbean.
 
Your writing has covered the history of religious and social reform movements. How does the current movement compare to past movements?
The courageous moral leadership of young people is the common connector, something made visible in the images from the marches and protests this summer.  The diversity of the protesters and the geographic reach of the protests is the best evidence of the shared outrage that led people into the streets.  Past movements have also attracted global support, but not to the extent that we saw and are still seeing.  There were Black Lives Matter protests all over the world.  More recently, those protests served as a model for young people who took to the streets in Belarus and Bangkok.  So movements begat and embolden other movements as has happened in the past.
 
You're currently working on a book about Merze Tate. What made you want to investigate her life and can you share something you didn't expect to learn about her?
I came to Professor Tate in a project on black women intellectuals, where she stood out as one of the few black women scholars of her generation.  Trained at Oxford in the 1930s and Harvard in the 1940s, she spent her career at Howard from 1942 to 1977 and published 5 books in diplomatic history.  I became fascinated both by "how" she came to spend her life as she did, and perhaps, more difficult to answer, "why."
I was surprised to learn how her skills as a bridge player revealed so much about her habits of mind as a scholar.  She had an affinity for mathematics, technology, and strategic thinking, and she brought that to her study of war and peace, armaments, and even, colonial railroads which she saw as tools of imperialism – all subjects usually explored almost exclusively by men.
 
The pandemic has forced everyone to spend more time at home. This has been a rough time for everyone but there is always some good, even in bad times. What has been a bright spot for you?
A bright spot is my deepened gratitude for family, friends, and neighbors as we all learned new ways of staying close and supporting one another whether near or far. And after a year away where I did 6 transatlantic crossings and traveled to India, Spain, and Germany, it has been comforting to simply be at home, and to be better rested than I have been in years – except for the low grade exhaustion and anxiety which we all carry these days.
Dr. Savage is currently at work on an intellectual biography of Professor Merze Tate, taking walks around her neighborhood and fighting off bees in her yard.
For more on Dr. Savage, click here.