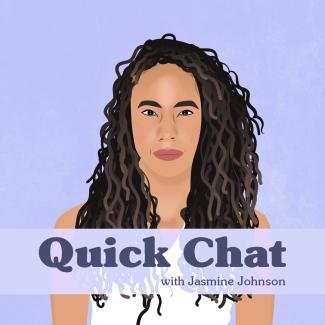 Since the spring, most of the world has been staying home. While video calls have become the norm, off the cuff interactions that take place in passing have all but disappeared. So we decided to ask some of the questions you would ask if you were to run into someone at the bookstore, on the train or even while having a cup of coffee.
We caught up with Professor Jasmine Johnson, Assistant Professor of Africana Studies at Penn, who joined the department in 2019.
Read on to hear what Professor Johnson has been up to.
This past year was your first year in Africana Studies at Penn. How did this school year help you grow as an educator? 
This calendar year required heavy doses of agility and creativity. The shift to virtual teaching has asked educators to (re)design courses that are both rigorous and compassionate. I've learned that, while virtual teaching was not what any of us imagined would be our circumstance a year ago, it can foster new possibilities for community building. I have been asking: How do we teach in ways that uphold the integrity of the material while being mindful of the obstacles and intellectual gifts of an online format? 
You also taught in the Summer Institute this summer. What was your goal going into the Institute and what advantages does teaching in the summer present?
Teaching in the Africana Studies Summer Institute was a wonderful experience. I offered a course on Black Popular Culture. At its foundation the class asks how Black performance and the performance of blackness are political. As a group, we examined a range of performances (film, dance, music, the novel) to explore how meanings of blackness are shaped through the realm of popular culture. What an incredible group of students I had the privilege of working with! Since the Institute is such an intense and abbreviated learning experience, my goal was to offer students a critical, introductory tool kit around race, culture and performance that they could draw from to make sense of their worlds. Teaching in the Summer Institute provided an opportunity for me to work with students before the semester began and to learn from my SI Africana colleagues. 
Your work has focused on Critical Ethnography and Dance and Performance Studies. Why do you think the arts are so meaningful in times of turmoil across cultures, when one would think the focus would shift to more immediate needs?
The arts are meaningful not because they are a break from the realities of the world but because they are birthed from those very real, material circumstances. They are vehicles through which people make sense of their worlds, innovate, and affirm the beauty of their existence. Much of my work centers around dance and what I have found is that movement across the African diaspora has served as an important mode of communication. It comes as no surprise to me that dance cyphers were a regular feature of the 2020 summer protests in defense of Black lives. The arts are our humanity's throat.    
Because of the pandemic, everyone has spent more time around the house. What has been the best part of the extra time at home this year for you?
Quarantine inspired new, creative ways to be in community with my friends and family. Those connections have been resources of joy in spite of the world's chaos. Reading more fiction has also been nice.