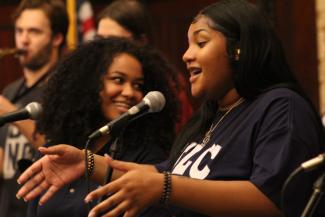 Let's take a moment to reflect on the positive and amazing things that have happened in Philadelphia this past month!
Shortly before election day, members of Vote That Jawn, a nonpartisan political advocacy group working to increase young voter turnout in Philadelphia, hosted "Trend That Jawn" to get new and young voters excited for the upcoming election.
Lorene Cary, Director of #VoteThatJawn, expresses her excitement for a successful event by saying "watching students and volunteers and high school partners assemble, connect, pivot, appreciate, share, and post. "Good work!"  We made another advance as a learning community figuring out how to connect youth with youth to promote voting and voter engagement."