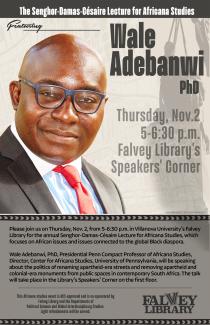 From Villanova University:
Please join us on Thursday, Nov. 2, from 5-6:30 p.m. in Villanova University's Falvey Library for the annual Senghor-Damas-Césaire Lecture for Africana Studies, which focuses on African issues and issues connected to the global Black diaspora. ⁠
⁠
Wale Adebanwi, PhD, Presidential Penn Compact Professor of Africana Studies, Director, Center for Africana Studies, University of Pennsylvania, will be speaking about the politics of renaming apartheid-era streets and removing apartheid and colonial-era monuments from public spaces in contemporary South Africa. The talk will take place in the Library's Speakers' Corner on the first floor.