2020 MLK Lecture: Angela Davis & Gina Dent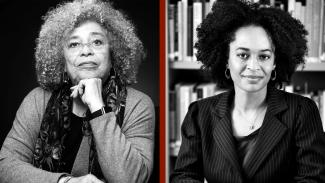 Our 2020 Reverend Dr. Martin Luther King, Jr. Lecture in Social Justice will feature Angela Davis and Gina Dent in conversation with Margo Natalie Crawford.
This event is free and open to the public; however, registration is requested. Please plan to arrive early as registering does not guarantee you a seat. Seating is first come, first served.
REGISTRATION FOR THIS EVENT IS FULL.

 
Through her activism and scholarship over many decades, Angela Davis has been deeply involved in movements for social justice around the world.  Her work as an educator – both at the university level and in the larger public sphere – has always emphasized the importance of building communities of struggle for economic, racial, and gender justice.
Professor Davis' teaching career has taken her to San Francisco State University, Mills College, and UC Berkeley.  She also has taught at UCLA, Vassar, Syracuse University the Claremont Colleges, and Stanford University.  Most recently she spent fifteen years at the University of California Santa Cruz where she is now Distinguished Professor Emerita of History of Consciousness – an interdisciplinary Ph.D program – and of Feminist Studies.
Gina Dent is Associate Professor of Feminist Studies, History of Consciousness, and Legal Studies at University of California, Santa Cruz, where she recently received the 2018-19 Dizikes Faculty Teaching Award in the Humanities.  
Sponsored by the Center for Africana Studies and the Annenberg School for Communication.  Co-sponsored by the Office of the Provost and the Black Alumni Society.