Read Until You Understand: The Profound Wisdom of Black Life and Literature
BOOK TALK
Farah Jasmine Griffin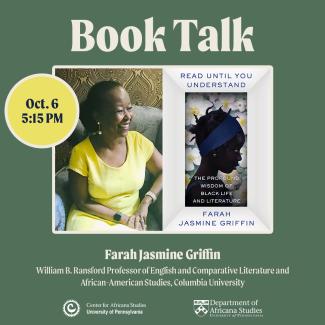 Join us for a book talk with Farah Jasmine Griffin,William B. Ransford Professor of English and Comparative Literature and African-American Studies, Columbia University about her book Read Until You Understand: The Profound Wisdom of Black Life and Literature.
This event includes a book signing. Books will be available for purchase following the talk and signing by the author. 
Please note: In accordance with the University of Pennsylvania's current COVID-19 guidelines, all attendees must wear masks at events. Physical distancing will be observed. All attendees must check-in upon arrival at the event to track attendance.

By registering for this event, you are certifying that you have been fully vaccinated against COVID-19 or are a Penn community member enrolled in the Penn Cares testing program. 
Outside visitors must now complete a PennOpen Campus pre-screening on the day of the event and present their Green Pass on request. This applies to visitors coming to campus for any reason or length of time, including event attendees, researchers, vendors, and contractors. 
If you are not vaccinated or are not a Penn community member enrolled in the Penn Cares testing program, we welcome you to watch our events on our YouTube page.
This event is hosted by the Center for Africana Studies and the 

Department of Africana Studies and co-sponsored by the Department of English.